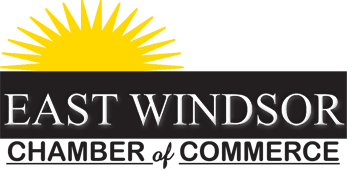 Minutes of East Windsor Board of Directors/Business meeting 1/9/2018
Executive Director Report –
Jim Richards reported that membership seemed to be headed in an upward trend but renewals payments are coming in abet slowly.
Jim also reported the trend continues to be a lean Holiday Months for new prospects but is hopeful we can have a more successful membership   drive this year.
Our Social media has improved as well as our website- members are being encouraged to check their listing for errors (can be fix easily).
Discussion was had about raising our membership fee- All felt that to keep the smaller businesses part of our "Local Business Voice" the cost to be be member needed to be fair-All felt while always looking for Value for the members those that have taken advantage of our marketing is well worth the $125 per year.
New Chamber membership  Brochure being finalized and should be ready before end of January/
Committee Notes–
Laurie Lee Shaw Volunteered to take on role of "Event Chairman" and was promptly nominated to a Director of the Chamber- with Enthusiasm.
Other Discussions had–
 Casino Status– No new news at this point
Zoning Enforcement– Recently the Board of Selectmen commented they were going to increase zoning enforcement which typically focuses on Business property. The Chamber office has been contacted by a few businesses that are concerned. Executive Director Jim reported-The Chamber's stance has and will continue to be- "That the Zoning Department is Professional and Fair. They can be an asset to a Business in matters dealing with Zoning."
 Events– Business After Hours was discussed and Laurie in her new role will be pursuing this.
NCCCC Home & product Show– East Windsor & Suffield Chamber members have been invited to participate. Great opportunity for All. Hoping to have a Chamber Table there- Directors are encouraged to come help man.
TVCA(Tobacco Valley Chamber Alliance) Had a energizing meeting as Each Chamber involved started choosing dates- Exe Dir Jim will be looking into a Special table Top Display evening in the Spring.
State,Town–
1) Financial-It was the consensus while some matters are being finally dealt with but there seems to be a lack of understanding that the Businesses themselves are tapped out from higher taxes.
2) Lack of funding/pulling back of projects for infrasturcture (State stopped DOT projects within day so f this discussion.)
Next months meeting will be Feb 13th 1230pm at EW Chamber Office.
Submitted
James C. Richards -Executive Director EWCC