State Representative Christopher Davis was there to kick off last weekends North Central CT. Chamber of Commerce's 50th Home and Product Show– East Windsor Chamber of Commerce and its members were invited to participate(got to love when Chambers "Work Together for the Success of Our Members").
There was plenty of action and fun  including demonstrations and giveaways.
A Big Thank You to the Staff of NCCCC Mike Vezzola Exe Dir and Karen Campbell Admin. for making EWCC and its members so Welcome.
EWCC members EW Community Groups that participated are
Aire Serv of North Central CT, Budget Blinds of  Enfield, Asnuntuck Community College, Point Staffing Service, USA Hauling & Recycling, United Bank, East Windsor Senior Services, Five Corner Cupboard, Journal Inquirer,East Windsor Lions, Nutmeg Senior Rides, Stanton Equipment, East Windsor Human Services, Allied Community Services, Hartford Courant, Westfield Bank, Unique Pavers, Webster Bank, COSTCO and East Windsor Parks & Recreation.
East Windsor Chamber of Commerce gave away 2 Free 1 Year Membership's which were won by which will be a New member Paralegal Source LLC (Jill Turner) and Standing member Aireserv of North Central CT (Karen Germain).
Food was provided by long standing EWCC  Friend Chef Bill Makin Bacon and One of East Windsor's newest restaurants Baker and the Brew
Our members had a great Time and our looking forward to Number 51!
.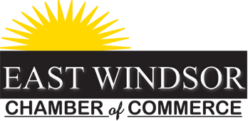 "Where the Sun Rises" on Business and Community.