The East Winds-November 9th ,2018  Edition 
East Windsor "Where The Sun Rises"on Business & Community!
Executive Directors Notes: 
 Good Morning So Much Happening from- Veterans Day 5K Race. EW Athletic Hall of Fame,Beauty and the Beast,Fresh Cut Christmas Trees Turkey Shoot,Artists Market Shop Small Business Saturday with a Great Joint East Windsor Rotary and East Windsor Chamber Event at end of the Month (Nov 29th) "Celebrating East Windsor's Business Community" at the Nutmeg Restaurant where we will Welcome new Businesses and Celebrate those that have expanded their presence(RSVP Requested).
Have an Excellent Day – Jimbo  
         Most Recent EWCC Website Stories  
The EWCC Supports "Small Business Saturday"
Winterfest & Tunnel of Lights
Proactive Purge Planning w/INFOSHRED
Robert Brogle Elected Pres. of CT Trolley Museum
New Deals at Nutmeg Restaurant
Goldstar Gutter Cleaning
1st Annual Transport Hartford Multi Modal Transit Summit
RTE 5 Corridor Study(includes link to Survey)
November Special for EWCC Members w/ Hartford Toner
Christmas Trees for You from Syme Family Farm
Book Sale at WHPL
DOL & Asnuntuck Announce FREE Wage Reimbursement Apprenticeship Program
EWPD has a Website
**To See Complete Stories Click on: 
http://www.eastwindsorchamber.com/site/category/press-releases/
**For daily announcements please like us on Face Book !(FB Page has Business Updates, Announcements,Articles about Business and More)
Calendar/Events/Happenings-     
Ongoing-
Sundays Thru-Nov 18th 'Turkey Shoot with EW Lions Club
Fri,Sat,Sun-Thru Nov 25th Beauty & The Beast
Fri,SatSun FRESH CUT Nov 23-Dec 16th Trees with Syme Family Farm
Fri  Nov 9th
Veterans Road Race Pasta Dinner
Sat Nov 10th
19th Annual Veterans Day 5K Road Race
Goods & Services Auction to Benefit SafeGrad
Sun Nov 11th
Sunday Brunch at the Nutmeg
Wed Nov 14th
BAH w/ Windsor Chamber (EWCC members invited)
Thur Nov 15th
Singing with Angry Bird at WHPL
Fri Nov 16th
Class of 2018 -EWAC Hall of Fame
Sat Nov 17th
Abbys Helping Hand Brunch & Vendor Shop
211 Informational Seminar
Crafty Craze-Thanksgiving Creations at WHPL
Sat Nov 17th
Artists Market at Agonist Gallery
Mon Nov 19th
Jumping Clay at Broad Brook Elementary
Fri Nov 23rd
Winterfest & Tunnel of Lights Begins
Sat Nov 24th
Stuff a Cruiser at Wal Mart w/EWPS
Small Business Saturday
(see list of EWCC Members at Press Releases EWCC Supports)
Thurs Nov 29th-
"Celebrating East Windsor's Business Community"
Presented by:
Rotary Club of East Windsor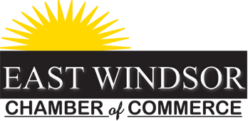 For Complete Details & Dates please visit: