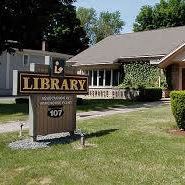 The Library Association of Warehouse Point, 107 Main Street, East Windsor, CT, has been selected as a beneficiary of the Big Y Community Bag Program for the month of March by the East Windsor branch of the Big Y, located at 67 Prospect Hill Road, East Windsor.
The Library will receive a $1 donation every time the reusable Community Bag is purchased at this location during the month of March.  If you shop at other Big Y locations, you may direct your donation to the Library though the Giving Tag attached to the bag.  Your gift will be targeted for the Library's collection development.
The Big Y Community Bag Program, launched in January 2019, is a reusable bag program which facilitates community support with the goal to make a difference in the town shoppers live and work in.
For more information, please contact the Library at 860-623-5482 or by visiting our website, www.warehousepointlibrary.org.