When:
September 15, 2023 @ 7:00 pm – 11:00 pm
2023-09-15T19:00:00-04:00
2023-09-15T23:00:00-04:00
Where:
Broad Brook Opera House
107 Main Street Broad Brook CT 06016
Uprooted Duo: Michael Glabicki of Rusted Root with Dirk Miller Duo!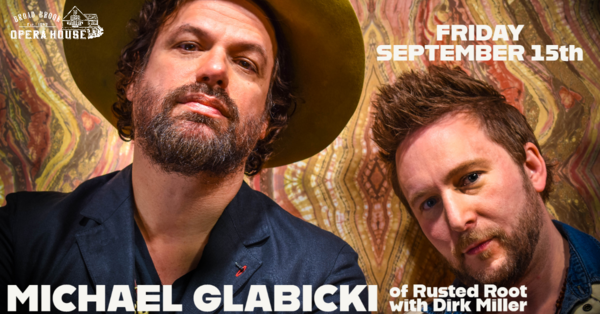 Friday, September 15, 2023 – 8:00 PM EDT
Michael Glabicki & Dirk Miller of Rusted Root
In addition to the full band, Glabicki strips down to the bare essentials on a duo tour where he and longtime bandmate Dirk Miller take the old Rusted Root favorites along with new material and perform reenvisioned versions of them in an up close and intimate setting. "We go into the crevices of the songs and expand them out and open up the music to whatever happens in the moment," Glabicki says of his shows with Miller. "It's completely improvisational, to the point where we surprise ourselves a lot. Things just happen, and I start laughing. It's like we've never heard it sound like that before. We have a great time with it and the audience seems to enjoy the musical exploration too." A multifaceted musician, producer and songwriter, Glabicki's talents are unique and extremely uplifting. His new projects and music are extensions of his creative talent and will inspire all those who participate.
Doors – 7:00pm
Show – 8:00pm