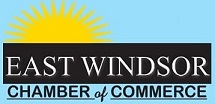 "Where The Sun Rises" on Business & Community
         The East Winds 
August 5th Edition
  View from Church and Main-
Well East Windsor is in a Heat Wave and lots is going on here in Town.
Last Week's "National Night Out" was very successful and everyone had a Super time. A Thank You to EWPD & EW Parks & Recreation.
Don't Miss Broad Brook Congregation Churches "Tag Sale " This Saturday 9a-3p on main Street Broad Brook CT 06016.
The Ct Trolley Museum is busy with special events and Open for the season so be sure to get "All Aboard the Trolley" http://www.ct-trolley.org/ .
The Broad Brook Opera House is Hopping This weekend with 2 Great Live Shows (Fri/Sat) see headline below or www.bbohct.com .
Also in Headlines Open House at EMS Education, Westfield Bank Honored by Boston Business Journal, Sunday Brunch at Nutmeg, Sweepstakes from CT Water, Dinner Specials at La Nottes Waterside Grille and Windsor Federal warns of Impostor Scams.
Lots of Images and Flyers also in the Items of interest section.
EW Chamber of Commerce members for the Fall we are looking for some In Person .Business After Hours (Retail/Sales ) and Casual Business Network (Restaurants /Taverns). If You would like to be part of either program please contact us at jim@eastwindsorchamber.com .
Also Coming soon will be a form of Networking via Computer (ZOOM)
This program is being worked by a Committee with EWCC Members from Swedes Jewelers, Hosting CT and Windsor Federal Savings.
I Thank them in advance for the Creation and coming debut of a new form of networking for Our Members!
As Always Remember
East Windsor
        "Where the Sun Rises" on Business & Community!
Jimbo
Headlines-
Just click on Headline  or click on https://www.eastwindsorchamber.com/site/category/press-releases/
Items of Interest!- (Images/Flyers)