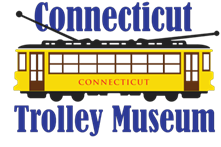 May Events at the Connecticut Trolley Museum-
Spring Fling, Flea Market/Book Sale & Memorial Day
On May 14th sample wine and beer while enjoying all the Museum has to offer! New Earth and Aquadutes will be performing throughout the day. Cost will be $20 per person made in advance at www.ct-trolley.org which will cover admission to the museum and the tasting ($25 at the door.) You must be 21 to drink and will have to show your ID when you arrive at the Museum. The Museum open at 10am and the event runs from 12pm-4pm. Every ticket comes with a Trolley Ride and the entire Museum will be open including the Fire Truck Museum. Confirmed Breweries are Thomas Hooker Brewery, Stafford Cidery – home of Crazy Cock Cider, Powder Hollow Brewery, Broad Brook Brewing, Problem Solved Brewing Company, Cambridge House Brew Pub, 2nd Bridge Brewing Co., Cottrell Brewing Company, Safe Harbor Brewing Company, Barley Head Brewery & Joe's Fine Wine & Spirits will be sampling wine. Tacos La Rosa Official will be on-site serving up yummy food General admission will apply to those who aren't sampling. The event will be held outside unless raining.
On May 21st & 22nd the Museum will hold a Flea Market & Book Sale- sell your old collectibles and purchase more! Purchase a table or two to sell your goods. The Trolley Museum will be "cleaning house" and selling items that are not needed, surplus, or not part of the collection including books from the Trolley Museum's library. Anything can be sold at this event, items do not specifically have to be railroad-related. General Admission rates apply to our visiting guests. $10 per vendor and $10 per table (if needed). Vendor fees support the Trolley Museum's ongoing activities. To register as a vendor visit www.ct-trolley.org.
On May 30thjoin the Museum to remember those who sacrificed for our country. The Trolley Museum will honor all military personnel, including veterans, with free admission. Military ID or paperwork must be shown to receive free admission.
The Connecticut Trolley Museum is located at 58 North Road (Rt. 140) and is a short 15 minutes north of Hartford or a short 15 minutes south of Springfield. Visit www.ct-trolley.org for more information.
Connecticut Trolley Museum
58 North Rd (Route 140) 
East Windsor, CT 06088
860-627-6540