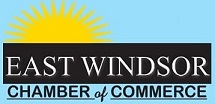 The East Winds
July 29th 2022 Edition
View From Church and Main-
The East Windsor Chamber Office will be back on a normal sked. next week so this is a Shorten version of Our "East Winds" This Week.
While The Broad Brook Opera House is quiet this weekend (see August Shows at https://broadbrookoperahouse.com/  ) but I wanted to be sure to remind You of the Opportunity to See, Display and Purchase from Our Talented Local Visual Artists the Late Summer's Artists Market at Agonist with a special presentation by Gallery Owner Jeff Holcombe at 2pm (see story in  Headlines Section) and of course be sure and check out what's happening at the CT Trolley Museum including Storytime Trolley at https://www.ct-trolley.org/ .
Also in Headline Section is a request to Residents of East Windsor that the East Windsor Rotary Club is looking for your Nomination and for Financial see the CFS Viewpoint
Items of Interest include quite a Few Items and Events coming soon.
Next week The Office will be Open (located in Broad Brook Library) and we are in house most mornings M-F and we love to have Visitors.
Have a Great Weekend and Keep Cool – Jimbo
James C Richards
Executive Director
East Windsor Chamber of Commerce
  Headlines-
Just Click on title or go to https://www.eastwindsorchamber.com/site/category/press-releases/    for Full Story
  Items O Interest –