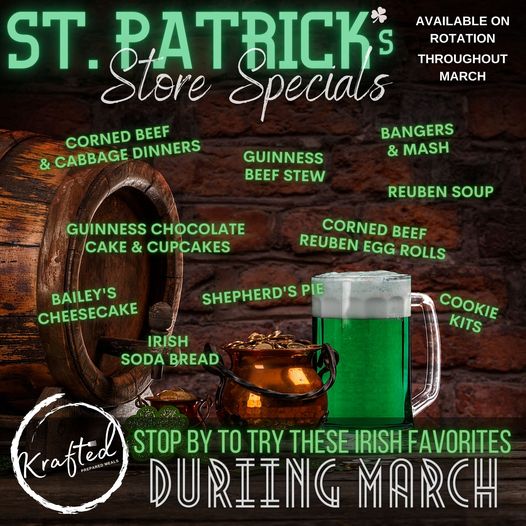 They are celebrating St. Patrick's Day all month long here at CHG Catering & Events and Krafted Kitchen!
     They are always striving to create new ways to celebrate and make memories throughout the year.
         From Individual Meals, to Family Meal Bundles, to Spectacular Buffets for Home or Office Parties they have a wide variety of meals to go and catering options to suit every occasion.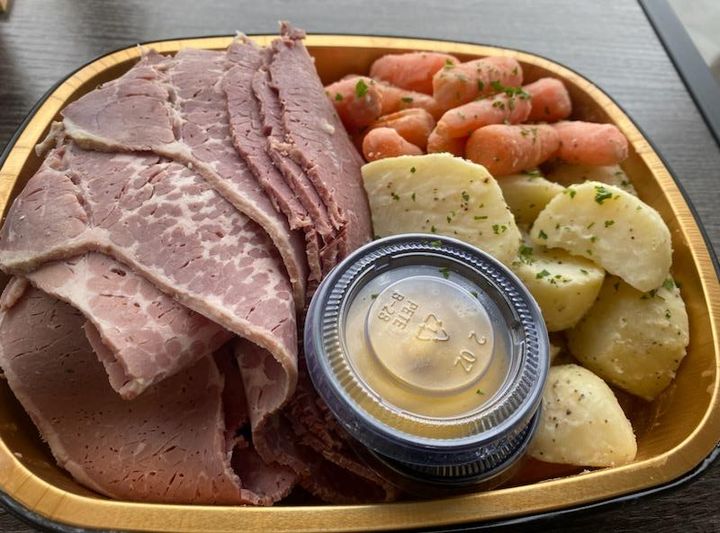 Individual Heat and Eat prepared meals from Krafted Kitchen begin at $12.99 and feature Guinness Beef Stew, Beef or Lamb Shepherd's Pie, and a traditional Corned Beef & Cabbage Dinner.
Back by popular demand, they have a variety of Family dinner bundles available for pre-order starting at $68.
These dinner bundles are heat at home meals with easy to follow, quick heating instructions. Different packs are offered each week.
They are currently featuring a Corned Beef Dinner Pack which serves five guests and includes corned beef & cabbage, boiled potatoes, roasted carrots, Irish soda bread, and Guinness chocolate cake.
Celebrate St. Patrick's Day at the office with their corned beef buffet. At $17.95 per guest, this Irish themed buffet includes slow-simmered corned beef served with rye bread and stone ground mustard, choice of potato (choose from Irish mashed potatoes, or boiled white potatoes), and choice of two vegetables (choose from baby carrots with green onions & butter, garden vegetable medley with herbed butter, or green cabbage steamed with pickling spices).
Looking for something a bit more simple? Check out our St. Patrick's Party Platter menu!
If that doesn't make your Irish eyes smile, they also have some fabulous, festive add ons such as Reuben Egg Rolls, Colcannon Bowl, Guinness Chocolate Cake, and Bailey's Cheesecake!
Of course, St. Patrick's Day celebrations wouldn't be complete without the Holyoke St. Patrick's Road Race and Holyoke St. Patrick's Parade, which is one of the largest in North America. It attracts hundreds of thousands of spectators with 15,000 marchers.
Our mobile kitchen, Krafted Mobile food truck is proud to be participating in both events on March 18th and 19th and will be offering some traditional Irish food items as well as classic food truck favorites.
Contactless delivery is available to western MA and northern CT or customers may select curbside pickup from their East Windsor, CT location (see our website for delivery radius & pricing).
Orders can be placed directly online at https://www.kraftedkitchen.store/seasonal.
Questions may be directed to 860.506.1450 ext. 1 or via email at info@chezhospitality.com